The bedroom is one of the main rooms in a property, because it is where we spend most of our lives. According to research, we dedicate about 24 years of our lives just sleeping. Therefore, investing in good decoration and details, such as the headboard, is essential.
This measure brings more comfort, quality of life and inspiration when waking up. Especially, because the headboard makes the ambient cozier and reinforces its originality, sophistication and identity.
To help you with your choice, in this post we present 5 different and creative ways to use the headboard. Thus, you can make this item one of the main features in your bedroom furniture. Check it out!
5 headboard usage tips
The headboard allows you to give a "new look" to your room. After all, there are several different formats, fabrics and models, which help to leave the ambient personalized.
The question is: how to choose the best alternative? Here are some tips to put into practice.
1. Use the upholstered model
Headboards with upholstery are ideal for those who want to make the room cozier. They promote a feeling of comfort and welcome, in addition to being quite versatile.
Depending on the size and style used, the upholstered piece can turn your headboard into an excellent backrest when you want to sit down and read a book, for instance.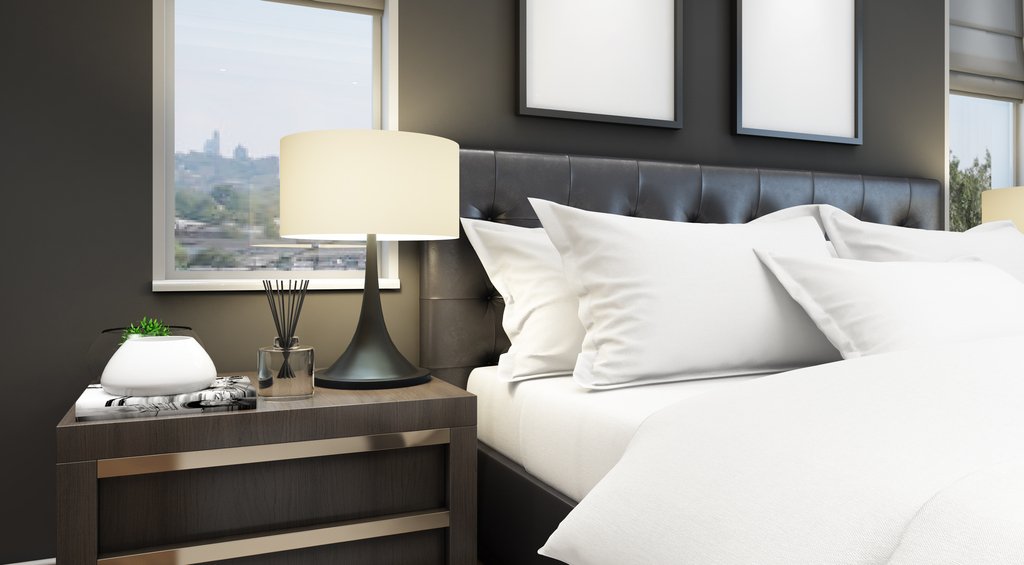 This model is on the rise and will give a special touch of sophistication and modernity to your room. Not to mention that there are upholstery in different colours. Therefore, you can invest from sober options to the most colourful ones. It all depends on the style you like.
2. Be original with the painted headboard
Think out of the box! Painted headboard is the creative trend of the most homely interior design. If you want to create an authentic ambient, this is the best option.
In addition, the painted headboard saves space in the room, makes the ambient stimulating and the best of all, it is more affordable.
3. Invest in adhesives
With the wallpaper trend, companies in the industry created more possibilities. Today, you can find stickers to identify the headboard area.
They are versatile, personalized and make the ambient differentiated, with an innovative look. Best of all, they can be swapped out or taken out entirely if you want. In other words, it is an easy way to renovate the room.
4. Bet on fabrics
If your headboard is in good condition, a good idea is to change or add fabric. Textures and colours help to compose the identity of the ambient. In this process, it is essential to know how to choose the right option.
Visit stores and companies specialized in this field and check out the feeling that each option provides. It is also worth reading about colour psychology. From there, you can take another important step in transforming your room.
5. Opt for wood
Wood is a material that is increasingly present in interior design. It has been highlighted for its versatility, elegance and possibility of exclusive and personalized projects.
You can also opt for sustainable solutions like recycled polystyrene products which look like wood. It is possible to make the headboard with wainscoting and Santa Luzia's DIY slatted wall moulding and also with Santa Luzia's pine battens.
Slatted panels, for instance, make the look much more imposing and innovative. In addition, you can invest in sustainability and understand more about what it means to be a responsible consumer. That's because you can choose a company that works with reforestation wood like Santa Luzia. This way, it is possible to combine beauty, comfort and practicality.
Advantages of the slatted panel
Of all these options for the headboard, the slatted panel is one of the main highlights. Its use is becoming more and more common, because it gives properties back the feeling of connection with nature. However, without making the project outdated.
They also offer a visual stretch between ceiling and floor, as they do not require skirting boards. When added to good lighting, they make the ambient modern and personalized.
Wood slatted panels can also hide cabinets, doors and windows, ensuring uniformity in the ambient. The wall covering also lessens the need for repairing and repainting. Conservation can be carried out using a vacuum cleaner and a damp cloth.
A tip for those who choose this product is to choose companies committed to the natural environment. In other words, they respect nature and work with reforestation wood.
This is the case of Santa Luzia. The company invests in wood battens and fillets made from reforested pine. Thus, the ambient is not "loaded" and you have a sustainable material with a natural appearance.
In addition, the company also offers door casings and wall baseboards that can be used as panelling and are applicable for the same utility. Unlike the slatted panel, they are made up of wooden planks that also offer a robust design, with a rustic touch.
Thus, the headboard matches your personality, not to mention that your room has a very special touch. Just know how to apply these tips and see the results.
Skirting board Headboard
Now as a bonus tip, we've brought you a video so you can see how to make a skirting board headboard using Santa Luzia's materials. Check it out!
What did you think of this article? Got any questions about the topic? Leave your comment!