O ODS Seal part of the implementation of Agenda 2030, a global action plan that creates strategies to ensure that all people can live in dignity, without compromising future generations and, above all, without adversely affecting the environment.
To this end, the plan brings together 16 objectives and 169 goals that include the dimensions of sustainable development—social, environmental and economic—to be put into practice by governments, the private sector and civil society.
Santa Luzia, with its ecological products and principles of sustainability, fulfilled 16 fundamentals of adhesion to the National Movement ODS and received its recognition for its initiatives. In this article, learn more about the seal acquisition event and the company's goals. Follow up!
SDG movement
The SDG is a non-partisan, plural and ecumenical social movement that aims to fulfill the commitments of the 2030 Agenda for Sustainable Development, approved by the member countries of the UN (United Nations), during the 70th General Assembly held in 2015, in New York.
The aim is to facilitate the incorporation of the Sustainable Development Goals (SDGs) into people's daily lives and business practices. Thus, mobilizing all sectors of society till the year 2030, so that all countries can thrive in the midst of sustainability.
For this, 17 Goals that stimulate humanitarian and environmental actions for the next 15 years were developed. They are:
1. eradication of poverty;
2. eliminate hunger and promote sustainable agriculture;
3. ensure a healthy life;
4. ensure quality education;
5. achieve gender equality;
6. provide potable water and basic sanitation;
7. make clean energy accessible;
8. generate jobs and encourage economic growth;
9. promote sustainable industrialization, drive innovation and create infrastructure;
10. reduce inequality within countries;
11. make cities safer;
12. ensure that production and consumption are sustainable;
13. combat climate change and its impacts;
14. conservation of oceans and marine life;
15. preserve and promote the sustainable use of terrestrial ecosystems;
16. promote peace and justice for all;
17. Strengthen the global partnership for sustainable development.
In short, these actions are a call for global improvement on 5 crucial points: people, planet, prosperity, peace and partnerships. For companies, working with the SDGs means being aligned with attracting new investors and stakeholders who contribute to an environment of innovation. In addition, it encourages transparent communication about future work and its impacts.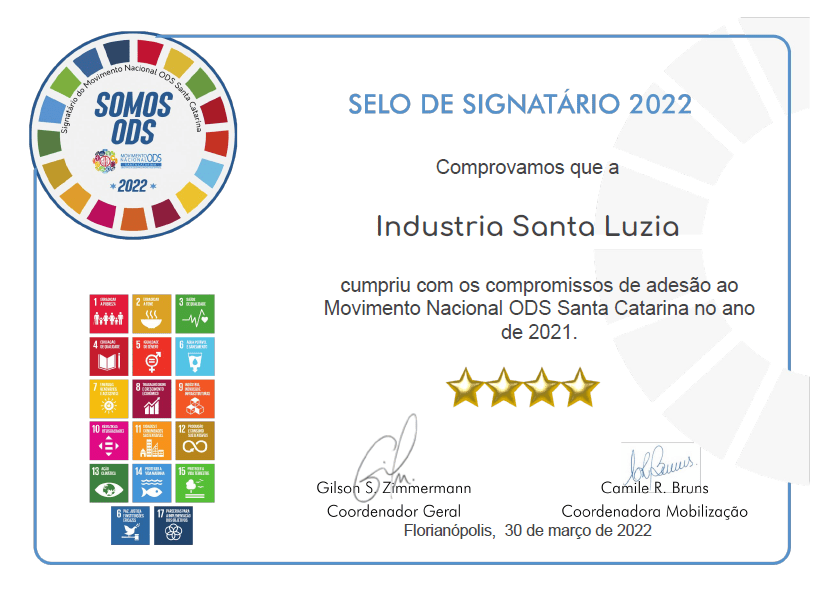 SDG Seal and Santa Luzia
Santa Luzia received its recognition of commitment at an event this Wednesday afternoon (April 13th, 2022), at the Bairro da Juventude theater, and brought together signatories of the SDG Movement in Santa Catarina.
"This is another great achievement for our company, as it is the consolidation of actions and projects in favor of Sustainable Development, which we have been dedicated to for a long time and have as a working principle", comments Karoline Gesser Leal, Sustainability coordinator who represented Santa Luzia at the ceremony.
Since 2002, Santa Luzia has invested in recycling plastic residues. The company has developed a technology that allows replacing 98% of wood raw material with recycled EPS, transforming the plastic in decorative mouldings, wall coverings, ecological accessories and resources used in constructions.
According to Socio-environmental Institute of Plastics, only 34.5% of the Styrofoam® consumed in Brazil is recycled. The production of this material is approximately 100 thousand tons per year.
In order to reverse this situation, Santa Luzia recycles 70% of this national recycled amount and works with a fully circular process. All this due to the fact that 96% production comes from recyclable origin and, also, the company reuses almost all of its products.
Currently, the company recycles more than 700 thousand tons of residues per month, with partner companies.
"Receiving the SDG Seal demonstrates the signatories' commitment to sustainable development and to actions that promote the improvement of quality of life", highlights the general coordinator of the Criciúma Committee of the National SDG Movement, Regina Freitas Fernandes.
Do you want to know more about Santa Luzia's sustainability actions? Click here and see how the company contributes to a better world!