The kitchen wall covering is a finishing and decoration solution that is back in fashion. When renovating a home, it's common to apply wall coverings on walls to better the ambient in general. In such cases, it's important to choose the material carefully in order to avoid regretting the decision later.
The wall covering must not only be beautiful, but resistant and functional as well. These are important points to note when choosing the product to be used. We must remember that the kitchen has ceased to be a room intended only for meals and is now a living space as well. Therefore, it's worth investing in a material that reflects the owner's personality as well.
Here are some special tips for choosing the best kitchen wall covering for your home!
1. Choose a sustainable kitchen wall covering
Sustainable works are on the rise. A tip to consider when choosing kitchen covering is to opt for sustainable building materials. Sustainable materials have characteristics such as the possibility of recycling, manufacturing that does not cause significant damage to the environment and increased durability.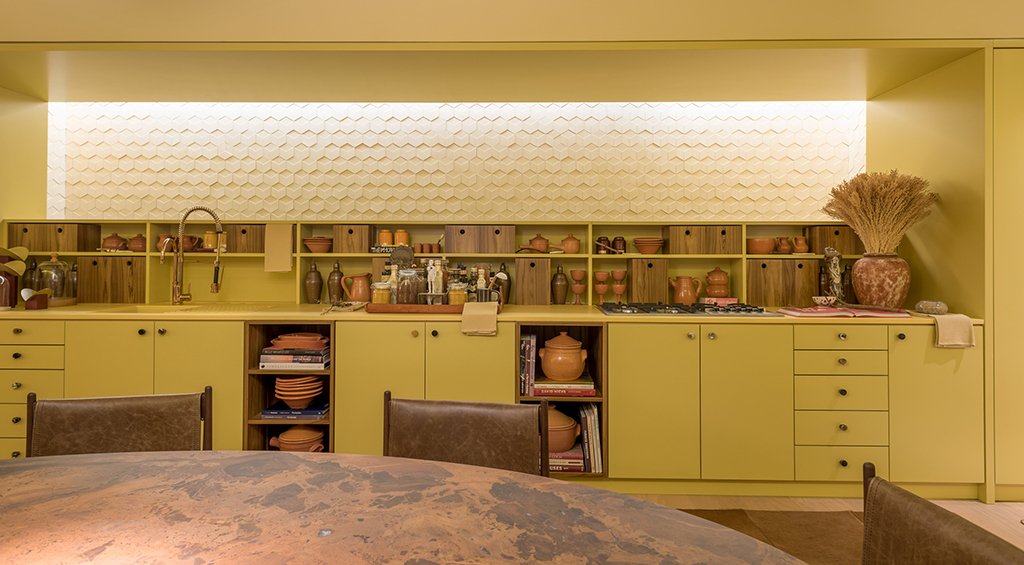 Polystyrene, for example, is a plastic material that provides greater lightness, resistance and low environmental impact due to its recycling potential, which makes it sustainable. Thus, through recycling, the sustainability of the product and the circular economy, so important to modern society, are guaranteed.
2. Analyze the furniture before choosing the kitchen wall covering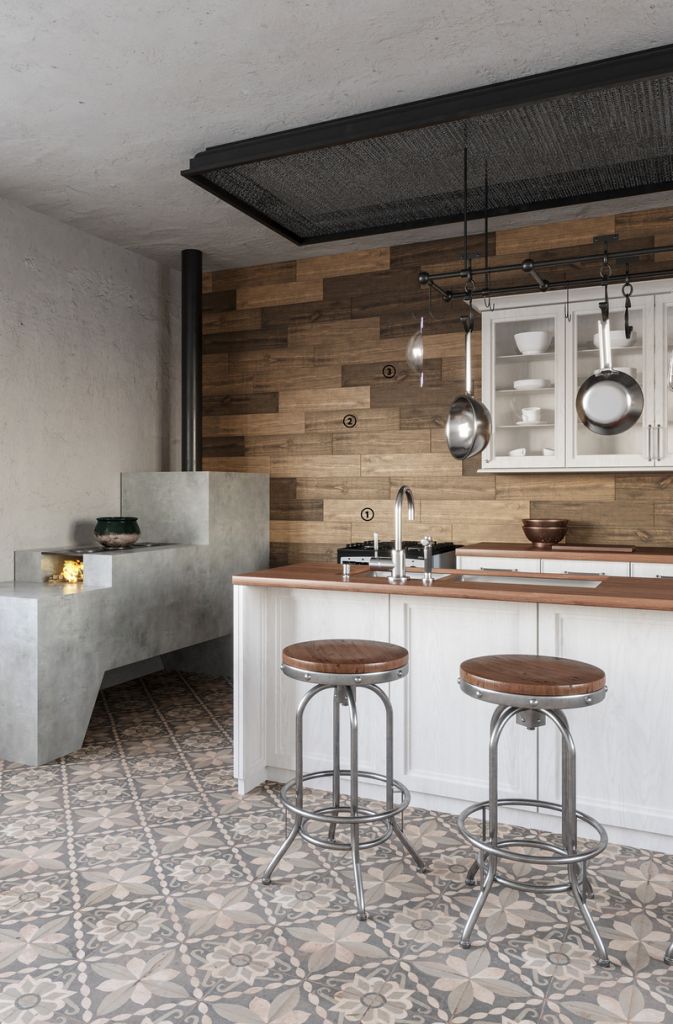 Another tip is to take kitchen furniture into consideration when choosing a kitchen wall covering. One that integrates with the furniture in a harminous way. The combination also depends on personal preferences. However, it's recommended not to fall into extravagance. Having common sense and following some trends are necessary in order to use colourful decoration without exaggeration.
Colours and shapes are the general criteria evaluated when we talk about harmony. However, furniture also contributes to a harminous ambient. For instance, if wooden furniture predominates, wood wall coverings should be used, such as woodpanels and wood battens.
It's not always necessary to use the same colours. However, make sure you prioritize colours or tones that match with each other. Some people prefer, for instance, neutral tones, such as black, white and gray. Creating a harmonic ambient is of fundamental importance for the interior decoration of any room. Harmony must involve the entire space and its users as preached by neuroarchitecture.
Image credits: Weber Studio, application of Light Brown, Brown and Dark Brown Woodpanel.
3. Consider whether the space is residential or commercial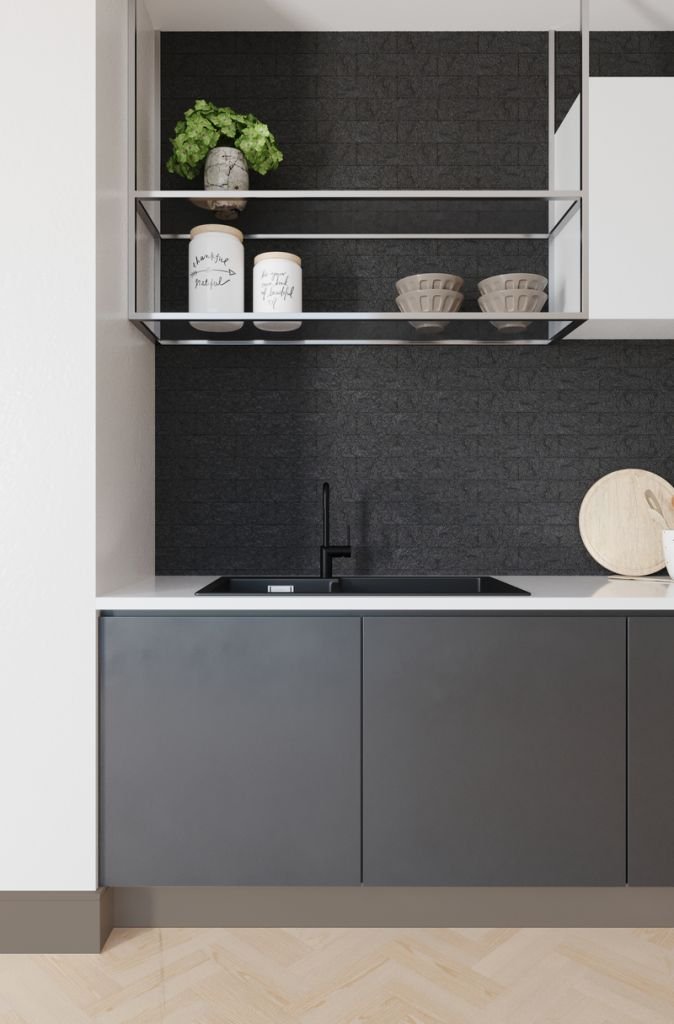 In order to choose the best kitchen wall covering, the space it'll be applied on must be considered. Note that, there are no strict parameters to differentiate between residential and commercial wall coverings. However, one possible difference concerns the dimensions of the decorative elements or the number of them.
Generally, when buying more pieces, the cost-benefit is much better. A business or industrial kitchen tends to be larger. Commercial spaces also tend to have a more sober, standardized, and formal decoration. Unlike residential buildings, where, generally, there is more flexibility on this aspect.
Image Credits: Weber Studio, Titanium Gray skirting board and Urbancrick Black application.
4. Assess the kithen wall covering functionality and strength
It's also relevant to evaluate the wall covering's functionality, in other words, whether it will provide protection and beauty to where it's applied. The ecological wall covering also contributes by providing thermal comfort and sound insulation. Depending on the material, this thermal and acoustic insulation can be greater or lesser. Thermal comfort allows the user to use the kitchen at any time, in any season without much temperature variation.
The material should also be resistant to impacts and moisture content. Ceramics, for instance, can offer resistance, but are more vulnerable than recycled polystyrene in terms of moisture resistance. In any case, to be sure of the strength of the product, consult its technical specifications.
5. Make sure the product is easy to clean
Practicality is also a criterion to consider when renovating. In addition to having an easy installation, the product must be easy to clean. In this sense, the more "lean" the design of the moulding, the easier it will be to clean. A piece of covering with a lot of details, for example, is harder to clean, as it tends to accumulate more dirt in the recesses.
In conclusion, a smoother product is ideal. However, this doesn't mean you should discard the more elaborated designs. There are wall coverings that, despite having grooves, are easy to clean as well. It's necessary to evaluate the options available to check which ones are practical, allowing a quick and efficient cleaning.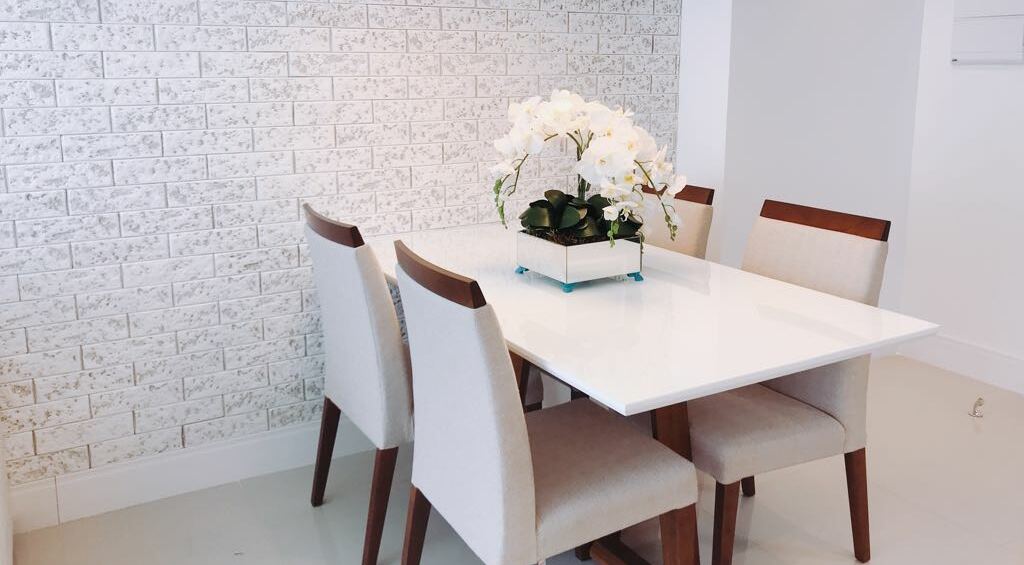 6. Purchase wall coverings from qualified suppliers
Choosing the kitchen wall covering supplier is one of the most important steps in choosing the best kitchen covering. Therefore, always choose those that are reliable and that can offer good quality materials for the best cost-benefit.
The search for the most qualified suppliers can be done through the internet. It's possible to <strongvisit several virtual stores and check the wall coverings they offer. Once you have found the one which interestes you, check it's technical specifications and contact the company.
Also, consider consulting store customers and analyze their experience. On some sites, it's possible to view feedbacks from consumers, such as their opinions, issues and comments on how the suppliers positioned themselves and offered solutions that satisfied customers.
Supplier management should also consider the payment methods available and whether they meet your needs. It never hurts to remember that lower prices are no guarantee of good quality materials. In practice, this means that it's better to purchase kitchen wall coverings for a higher price that ensure quality. In other words you are purchasing a construction product that is sustainable, resistant, functional, easy to clean and install.
Santa Luzia offers kitchen coverings with the following qualities: sustainability, strength and durability, practicality, simplicity combined with sophistication and great cost-benefit.
Did you enjoy our tips on how to choose the best kitchen wall coverings? Then, take the opportunity to get to know our products that may assist you in your renovation!